The 7 New Rules of Recovery
Downtime is a reality. Its impact is up to you.



Rule #1. Downtime is dead. Long Live Continuity
Discover the New Rules of Recovery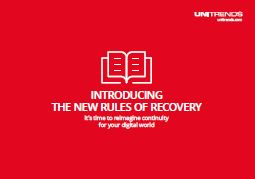 Transform your approach to business continuity and discover the new rules for a new digital world. Download our eBook and learn:

Why the latest continuity platforms eat ransomware for breakfast




How to automate your DR testing




And much, much mor

e
Download your copy today!

#1 All-in-One Backup & Continuity Solution
Our integrated all-in-one physical appliance, backup software and cloud empowered DR services are intrinsically simpler, faster and better. See why DCIG and Infotech named our all-in-one solutions best in class for enterprises and SMB customers.
Unitrends delivers award-winning business recovery solutions for any IT environment. The company's portfolio of virtual, physical, and cloud solutions provides adaptive protection for organizations globally. To address the complexities facing today's modern data center, Unitrends delivers end-to-end protection and instant recovery of all virtual and physical assets as well as automated disaster recovery testing built for virtualization. With the industry's lowest total cost of ownership, Unitrends' offerings are backed by a customer support team that consistently achieves a 98 percent satisfaction rating.